Devrims offer a wallet feature on every account by default so that you can add funds to your account via payment cards saved on your account payment method section. The wallet funds are used to pay the unpaid and future invoices of your account. 
This feature is introduced to cater the payment failure issues as there are instances when there are hindrances charging from your default payment card; as it's observed that many of the times the issue is from your banking merchant's end, so, to cater this issue, we have introduced Wallet functionality where you can simply transfer funds from your credit/debit card anytime and rest assured that your Wallet credit is safe with us; moreover,  wallet is the first in consideration when it comes to charging your invoice based on your monthly usage of Devrims resources. 
The system first checks the wallet balance during the invoice payment and settles the unpaid invoice from the wallet balance. If the wallet balance is insufficient to settle the invoice, the remaining invoice amount will be charged from the default payment card of the account.   
1) How to Add Funds in Wallet?
Login to your Devrims account 
Click on the Account button situated at the left side vertical header.
Click on the Wallet tab under the Account Detail heading.
Enter the amount you want to add to your wallet and click Add to Wallet button.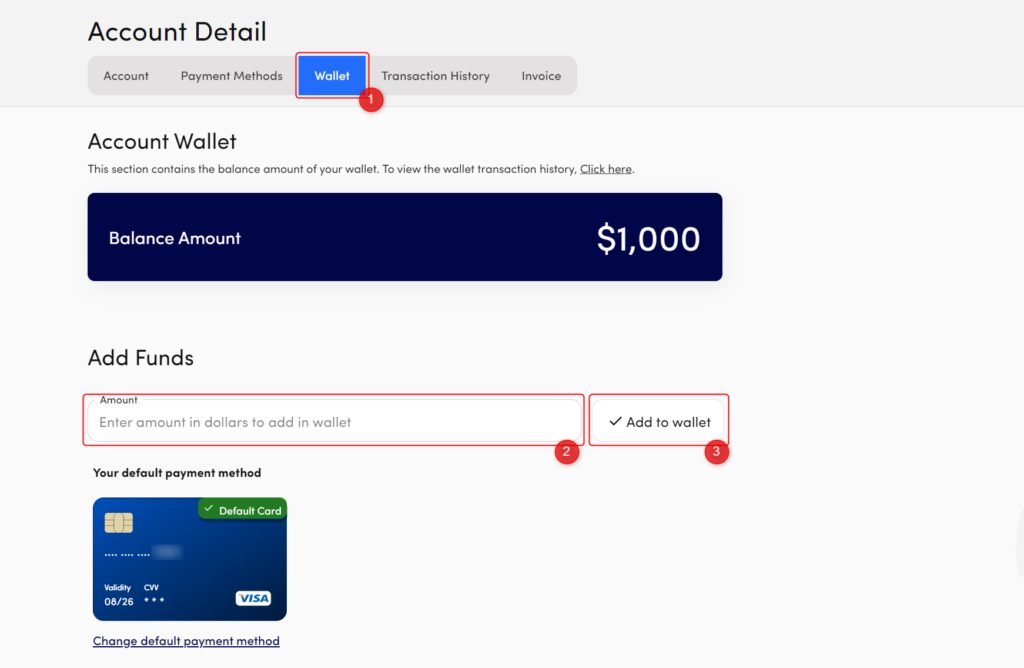 That's it!. Upon successful transaction from your card, the balance amount will be updated.
The wallet section also provides information about the default card used by the system for wallet transactions. If you want to change the default payment card, click on Change default payment method.
2) How to Track the Wallet Transaction?
Devrims believes in transparency. We not only record the transactions but also provide each and every detail to our customers regarding their account activity. 
You can track all the wallet and card transactions of your account from the Transaction History section. It's just like a bank statement where you can find every transaction detail with id, date, description, amount and status. We also provide the details of failed transactions, so you know about every attempt made by the system to charge your payment card.
To view transaction history, click on the Transaction History tab next to the Wallet tab. You can find all the transactions made by you to add funds in your wallet and card transactions made by the system to pay the invoices with transaction status, description, date and other important details.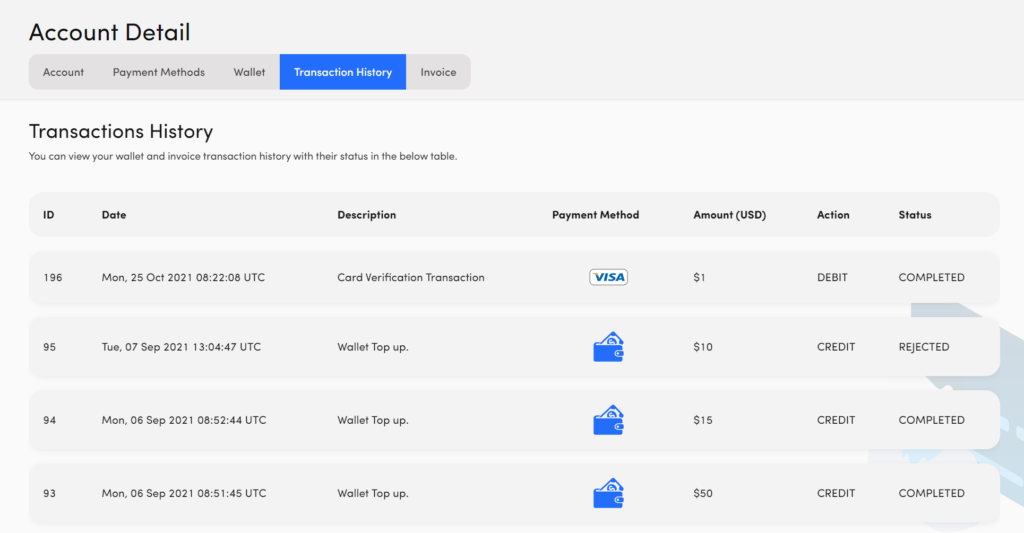 We hope this article was helpful. Please feel free to contact our support team via Live Chat or Ticket if you have any queries.